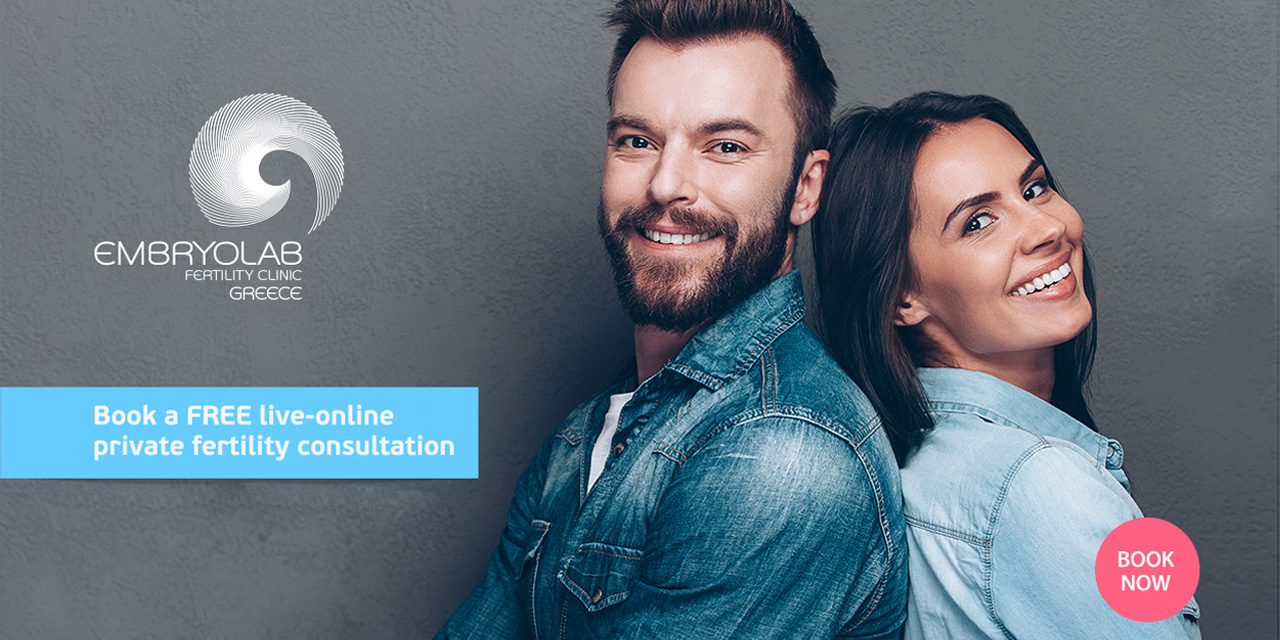 Embryolab Fertility Clinic, voted as one of the leading fertility clinics in Europe, will offer private fertility consultations by our specialists on 28 September 2023
To arrange a free 20 min. LIVE-online consultation please fill out the details below.
online

Location

September 28th 2023

Dates

20min

Duration
Get to know us
Embryolab is a state of the art Fertility Clinic, operating in Thessaloniki since 2004.

The Embryolab team consists of top-notch doctors, embryologists and scientists from many disciplines with great specialisation and experience in the field of fertility.
With insistence on quality and equipment at the cutting edge of technology, Embryolab has been certified since 2007 with ISO 9001:2015 and EN 15224:2017 standards. Embryolab is the first assisted reproduction unit in Greece to have been certified under the Covid Shield scheme by TÜV AUSTRIA.

Embryolab supports fertility with therapy protocols tailored to the personal needs of each couple. In Embryolab we work daily with respect to people's dream to become parents.

Changing lives. Creating families.
Our Vision is Changing Lives, Creating Families.
Why Embryolab? Embryolab is your fertility choice
90% of our patients have a successful outcome in less than 3 embryo transfers.
Unique elective cryopreservation techniques ensure significant increase in pregnancy rate 1 in 2 patients who could transmit a genetic disorder to their offspring have a healthy baby with our innovative PGD/PGS programs.
In 7 out 10 men suffering from azoospermia enough spermatozoa are found for successful fertilization thanks to our long experience in micro- TESE procedures.
Highly experienced midwives provide personalized care to patients. UK-trained fertility specialists are committed to continuous education.
Embryolab Academy's activities aim to convey our scientists' knowledge and experience in Assisted Reproduction Units globally.
Our state-of-the-art laboratory recently renovated with the most up to date hi-tech equipment.
Our clinical and laboratory experience in IVF treatments now counts more than 25,000 cycles.
Significant increase in pregnancy rates using the innovative non-invasive
embryo culture system, the Embryoscope®
In-house psychologist, nutritionist, and acupuncture specialist.
Highly experienced, accredited by the EBMG, in-house Genetic Counselor.
Certified from 2007 and up to date with ISO9001:2015, EN 15224:2017.
Embryolab was the 1st Fertility Clinic in Greece to be certified in 2020, for COVID SHIELD, by TUV AUSTRIA
Frequently Asked Questions
Once you fill in the form, one of our experienced fertility coordinators will contact you and guide you through the process. Please also check your emails in the spam folder.

It is preferable but not mandatory.
Please help us assist you on time. Kindly confirm your availability and update us of any delay or cancellation on your appointment.
Tel: +30 2310 474747
Email: e.louraki@embryolab.eu, e.argyropoulou@embryolab.eu
"My husband and I wanted to take a few minutes to express our gratitude to Embryolab and speak about our wonderful experience there. We live in Manchester and were introduced to the idea of IVF in Greece through several online forums. We were a little hesitant at first, but after we contacted Embryolab, we were given a free consultation, in the following weeks with the doctor himself. During our consult it was quite apparent that we were in good hands. Both the doctor and the coordinator, made us feel at ease and optimistic about the process. We decided to receive all of our medical care while abroad; medications, ultra-scans, blood-work, etc. and the IVF procedure itself. Immediately upon arrival, we were treated with the highest level of respect. During our time at Embryolab we felt truly cared for. We are now happy to announce that after one cycle we are pregnant with fraternal twins! We have been recommending Embryolab to our friends and family who are struggling with infertility. Our doctor, Margarita, our coordinator and the rest of the staff are still in my thoughts to this day. What an amazing experience they gave us and granted our wish of starting our own family!"
"I met the team in one of the consultation trips they organized in the UK, last November. They were very explicit explaining the whole procedure and costs, after going through a thorough investigation of our medical history. The atmosphere was really relaxed and both the doctor and the coordinator made us feel so positive and supported. We organized a trip to the Clinic on a weekend, where we did most of the tests, the whole pretreatment planning and we even bought all medications needed (far less expensive and hassle free than if we were to get them in the UK). Everything was planned ahead of time from their International Department. There were many things about the way the whole clinic is set up that made the whole process very positive including prescheduled and on time appointments, regular face to face meetings with our consultant, practicing the embryo transfer process prior to treatment, the relaxed environment and the calm and measured staff. Cumulatively, these features reinforced the feeling of being treated as individuals rather than being lumped onto a conveyor belt. We are now pregnant and anxiously waiting to hold our bundle of joy. It was really moving the reaction of the whole team once we announced the positive pregnancy test. We are still in contact with them. "We're in this together" our coordinator kept telling us. Absolutely so true…"
Visit our premises through VR

Find our location, explore and get to know us better! From the outside, enter our reception area and choose which medical cabinet you want to visit!

You can even enter virtually inside the Laboratory, see it from up close and be informed in detail about its state of the art equipment. Visit the operating rooms and the recovery area!

Discover Embryolab's premises and explore 2,500 feet of installations dedicated to fertility and in vitro fertilization.